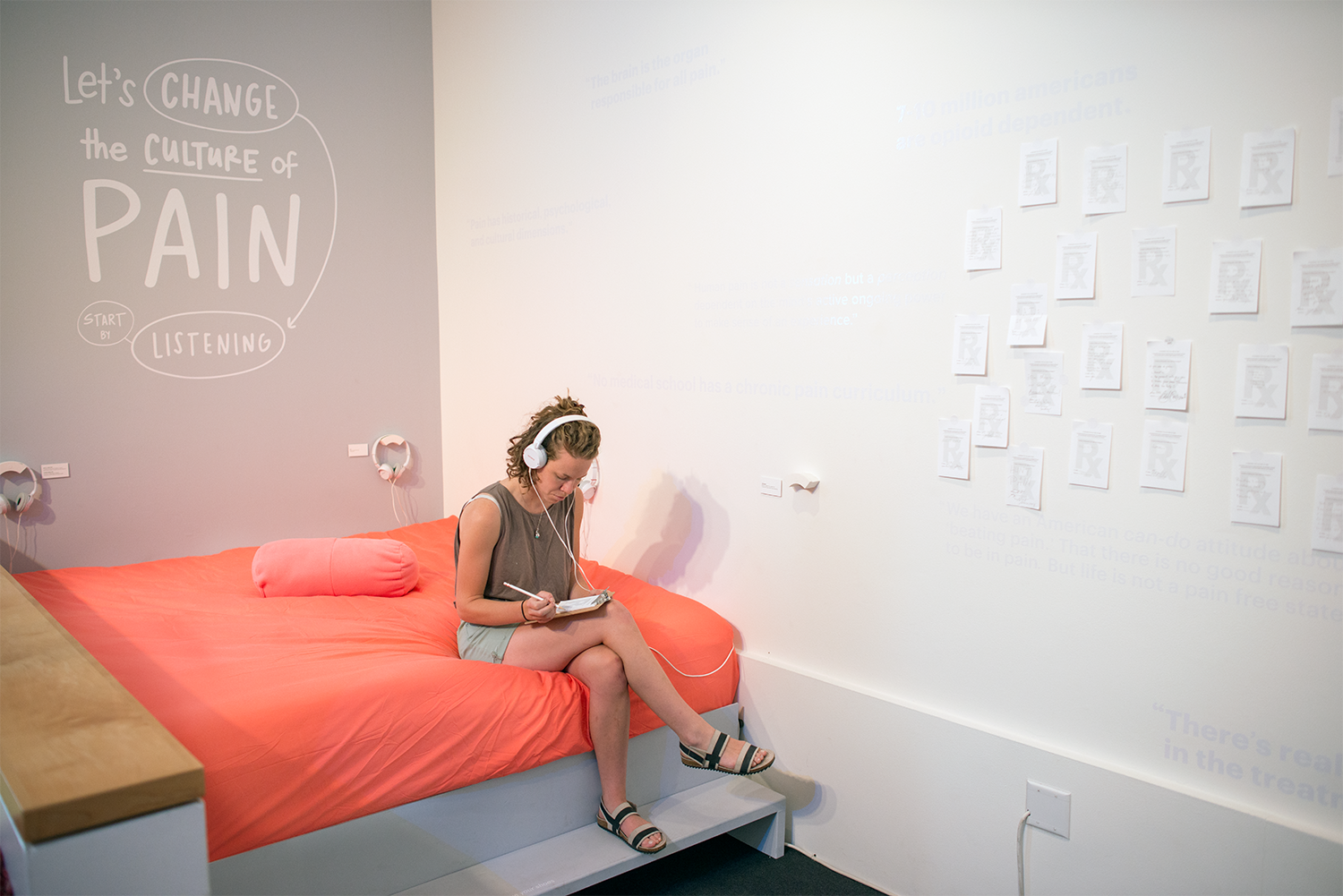 Thesis
Listening by Design
Statement
With an estimated 7-10 million Americans currently opioid dependent, it's clear that our attempts to kill pain have paradoxically created the largest epidemic in US history. We can't understand the opioid epidemic without unpacking pain, which is saturated in culture, history, and emotion. From neurosurgeons to addicts in recovery, Listening by Design is a collection of audio stories that reveal powerful insights about changing the culture of pain in America. Instead of killing pain, how might we manage it? Listening is a good way to start.
Full audio stories and transcripts from this project are available at changingpain.org.
Download the full thesis publication.
Bio
From 2017-2019, I conducted research in San Francisco, Seattle, and Copenhagen related to pain and pain management. I learned that while pain is universal, it is always shaped by cultural forces and personal meaning. My research focused on recording interviews and translating these conversations into shorter audio stories—shared as a podcast mini series and as an interactive installation in the Henry Art Gallery.
As a former HIV test counselor and palliative care researcher, I learned the monumental value of listening to people's stories. Listening is so much more than being quiet while another person speaks—it is a powerful way to build empathy for lived experiences that differ from our own. Narrative is perhaps the most essential tool we have for unpacking the complex nature of pain and course-correcting a legacy of pain mismanagement in America will require us to build a stronger culture of listening.
Prior to graduate school, I reframed business challenges as opportunities for human-centered design at IDEO and co-founded the firm's industrial design partnership for early stage ventures. My projects ranged from tackling adult incontinence to the future of the Olympic games. As an undergraduate, I earned my BA from UC Santa Cruz with a double major in psychology and fine art.
Education
Master of Design, University of Washington, Seattle
Bachelor of Arts, University of California Santa Cruz
Awards
2019 de Cillia Graduate Student Graduating with Excellence Award, University of Washington
2018 ScanDesign Fellowship in Copenhagen, Denmark, College of Built Environments at University of Washington
2016-2017 Top Scholar Graduate Recruitment Award, Division of Design at University of Washington
Committee
Annabelle Gould, Committee Chair (Visual Communication Design)
Axel Roesler (Interaction Design)
Lara McCormick (Exploratorium)