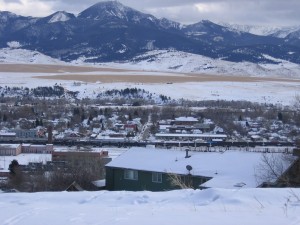 My month in Livingston was wonderful.  The small town (~7000) is in a beautiful setting…"A River Runs Through It" was filmed there for reference.  Dr. Wadle is a great doc and good teacher.  The entire staff at the clinic, nursing home, and hospital are welcoming and really make you feel like you belong.
Nuts and Bolts:  The 25 bed hospital has a med-surg floor and a 4 bed ICU.  I had a bit lighter month with only a few inpatients at a time and no ICU patients.  You round on them each morning and stop back in the pm if there are any active issues.  Then head over to clinic for a usually pretty full day of patients.  Easy to go back and forth b/c the clinic is right next door to the hospital.  Also run over to the hospital for stress tests throughout the week and colonoscopies every other friday alternating with nursing home visits.  There are also 24 hr ER shifts…I saw ortho stuff and kids which was a bit different than usual but great.  I had a ton of continuity between the ER, inpatients, clinic, and nursing home visits.  Was on one weekend to round but otherwise had weekends free.   The patients are great, all ridiculously friendly and welcoming.
Despite the various work activities that keep it interesting, the pace  is  more laid back and there is plenty of time for fun especially if you are into outdoor activities.  Yellowstone is only 50 miles away and is gorgeous any time of year.  Spent a few days snowshoeing and exploring the wildlife.  Dr. Wadle is big into cross country skiing and running so took me out for both of those activities and even provided the ski equipment.  There is also a fair bit of downhill skiing close by that is supposedly wonderful ( i was too chicken to try and too busy with other fun activities).  In addition, because it is somewhat of a tourist area, the restaurants in Livingston are actually pretty darn good, as is the local gym I joined for super cheap.  There are also a ton of small art galleries downtown (big artist community).  And, of course, can not forget the hot springs of which there are many, but I recommend Chico just south of town.
I could say so many more wonderful things.  I highly recommend this rotation and would be happy to answer any specific questions.