Soldotna is halfway down the Kenai Peninsula in South Central Alaska, about a three hour drive and  half hour flight from Anchorage. The Kenai Peninsula and Cook Inlet separate Prince William Sound and the range of mountains that extend from McKinley to the Aleutian Chain. The area is best known for salmon and trout fishing on the Kenai River, but the many lakes and smaller rivers are wonderful for more reclusive canoeing and camping. The Kenai mountains which run the length of the Peninsula allow for summer backpacking and winter backcountry skiing. Enjoying these local environs is a requirement.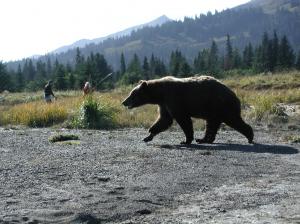 You will work in a practice composed of several internists, many of whom are graduates of the UW residency program. The practice is primarily office based, with the option to follow patients in the hospital next door. The range of experience is challenging and varies widely through all disciplines of internal medicine from clinical oncology to acute care cardiology and from endocrinology to rural ICU medicine. The local hospital has a fully covered ER; general surgical, obstetrical and orthopedic coverage; and several family practice physicians. Various procedures necessary to internists are performed with special emphasis on upper and lower endoscopy and 2D, color and doppler echocardiography as well as administration of office based and inpatient chemotherapy.
The primary goal of the elective is to allow you to experience the full scope of rural internal medicine. From a learning standpoint the various clinical problems (which are often complex and challenging) present an excellent opportunity to expand the depth to which residents understand specific disease states. On a clinical level, management must be tailored to the technical and geographic limitations of this Alaskan locale. The arena created is one where the internist must plumb deeper than usual to effectively manage difficult cases. For this reason it is probably better suited to R3s. R2s who feel a need to experience rural internal medicine prior to making career decisions and those in the later stages of their year are also welcome.
Availability:
September – May
Community:
Rural (3,750)
Contact info:
Primary Preceptor:
John Bramante, MD
907-262-8597
jbandkt@alaska.net
Office Manager:
Mary Annette Kelley
907-262-8597
pim@alaska.com
Residents who've been there:
Andrew Brookens
Daniel Calabrese
Brandon Fain
Tyra Thorstad
Jake Berman
Chris Murphy
Chris Chen
Kate Butler
David Wenger
Stacy Valkenaar
Julie Cella