Livingston is a small community situated on the Yellowstone River approximately 50 miles north of Yellowstone National Park. You will work under the supervision of two Board-certified general internists, Drs. Wadle and Scofield, who are part of a multi-specialty clinic which also includes two OB/gynecologists, a general surgeon, a pediatrician, an orthopedist, three family practitioners, one nurse practitioner, and one physician assistant. There is a small community hospital in Livingston that has a 24-hour emergency room, 4 bed intensive care unit, and a full range of ancillary services including diagnostic laboratory, radiology, respiratory therapy, and physical and occupational therapy.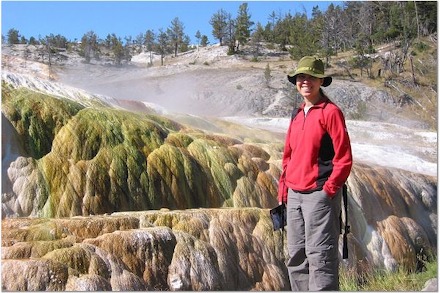 Chloe Atreya at Mammoth Hot springs (Courtesy Chloe Atreya)
Your activities will parallel those of the general internists with whom you are working. The time is split 70/30 between outpatient medicine and hospital work. You will admit and care for patients in the hospital and ED. You will have an average of one night call per week, during which time you will help work the emergency room. You will receive hands-on training in all of the procedures which general internists perform in rural practice including upper and lower GI endoscopy, exercise treadmill testing, bone marrow biopsies, and 2D echocardiography. Some time is free to enjoy the wide variety of outdoor activities that Livingston provides (it is only 30 minutes from the Bridger Bowl ski area, an hour from Yellowstone National Park, and minutes from national forest areas which provide opportunities for hiking, fly-fishing, white-water rafting, skiing, etc.)
Availability:
All year
Community:
Rural (6,851)
Contact info:
Primary Preceptor:
Doug Wadle, MD
406-222-9970
douwadle@u.washington.edu
Additional info:
Kyle Sears put together an information sheet for residents rotating in Livingston while he was there in April 2018. Highly recommended reading for anyone rotating there.