Spent an incredible 4 weeks here in September/October, and can't recommend it enough!
You work 4-5 days a week at Peninsula Internal Medicine, an independent practice with 5 MDs and 2NPs but right across the street from Central Peninsula Hospital where you'll go for some procedures, ECHO reading, and of course, free lunch. You work predominantly with the legendary Dr. Bramante who is an incredible internist and even more incredible human being. Most of my experience was outpatient, alternating seeing patients with him on one of his normally scheduled clinic days. The patients are super interesting from both a social and a medical perspective (you see a fair amount of the standard T2DM, HTN, CAD, COPD/combo of the above but I also diagnosed/helped manage things like IPF, polymyositis, HIV, CML, aldosteronoma and a host of others).  I also spent time working with some of the other physicians in the group including Dr. Kelley, Dr. Pokorney and Dr. Mitchell and even got to do some outpatient clin ed with the med student who was there at the same time. Overall everyone is super awesome, friendly, and smart and all are supportive of you doing the things you want to do and having the experience you want to have. This includes doing a week or two of inpatient if you are so inclined.
Soldotna itself is awesome, as is the Kenai Peninsula in general. Your drive down is breathtaking and just the beginning – activities are limitless! Make sure to spend at least a day if not a weekend in Homer, a beautiful town surrounded by magnificent mountains and nonstop views, good food, and cool art shops. Also journey over to Seward, where they have a nice little aquarium, kayaking in the summer, and you can take a short hike right up to the edge of Exit Glacier. So many amazing hikes and areas to explore like the Skilak wildlife refuge, North Beach in Kenai, and Cooper's landing.  I was also lucky enough to be there at the right time to go Halibut fishing with the Kelley's and no doubt JB will invite you over to run with the pups. Truly a once in a lifetime experience to be pulled on the back of a 4 wheeler by a pack of dogs while clutching your attending for dear life. Incredible!
You're also provided with a cozy apartment right on the Kenai river and a short drive from the clinic. Everyone takes care of you and is more than excited to have you over for dinner and show you all the amazing things Soldotna has to offer. I also had the opportunity to present a grand rounds style lecture for local providers. Definitely prioritize a rotation up here, you won't regret it!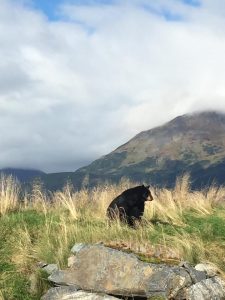 Black bear at the Alaska wildlife conservation center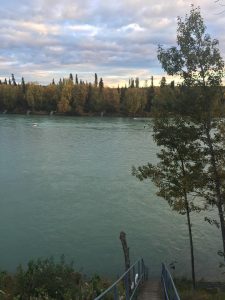 Kenai river in your backyard (literally!)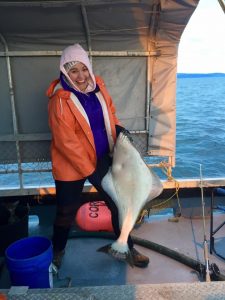 Halibut fishing with the Kelleys!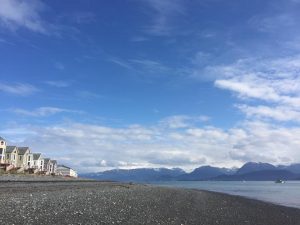 View from the Homer spit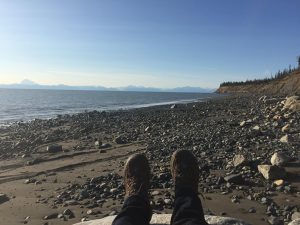 North beach at Kenai with relaxed resident feet included as proof of ample down time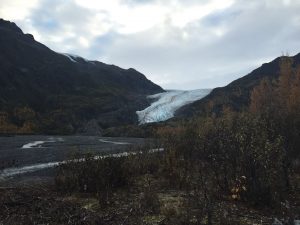 Exit glacier near Seward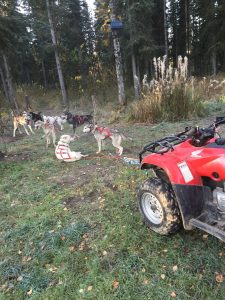 Ready for a run!