Sandpoint is the gem of Northern Idaho. Located on the shore of Lake Pend Oreille and directly beneath the slopes of Schweitzer ski resort, Sandpoint capitalizes on its stunning setting to attract a diverse population of nature enthusiasts, farmers, and off-the-gridders. The summers are warm and clear with average temperatures in the 70s and the winters are known for snow, making cross country and downhill skiing favorite pastimes. The people are friendly and engaging and are excited to welcome a resident into their community.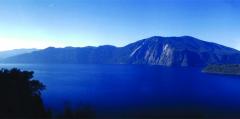 You work with Charlie Crane, a 1992 graduate of the University of Washington internal medicine program. The spectrum of his practice is impressive as is the high quality of care he provides in both inpatient and outpatient environments. In a single day, he may care for ventilated ICU patients, complete an emergent EGD and several scheduled colonoscopies, cardiovert a patient in atrial fibrillation, and see a patients in his office. Despite his busy schedule, he stays up-to-date on the medical literature and, by necessity, much of subspecialty internal medicine due to relative dearth of local rheumatologists, endocrinologists, and infectious disease specialists.
Residents become the primary physician for their hospitalized and office patients during the rotation, responsible for procedures, follow-up of labs and studies, and ongoing decision-making. The inpatient-outpatient setting allows for continuity despite the briefness of the rotation. You adopt Dr. Crane's schedule of four days per week including a half day of upper and lower endoscopy and one week of call within each three week period. This provides a range of experience through inpatient and outpatient medicine and time to explore the stunning beauty of Northern Idaho.
Community:
Rural (pop 7,000)
Logistics:
Six hour drive from Seattle.
Housing in nearby medical student apartment or, if available, local physician's vacant condo.
Idaho licensure costs $10; start process early.
Contact info:
Primary Preceptor:
Charlie Crane, MD
charliemcrane@gmail.com
Residents who've been there:
Leah Gordon
Carolyn Sy
Jehan Budak