The Anchorage rotation is based at Alaska Native Medical Center (ANMC), a 150 bed tertiary referral center dedicated to the care of Native Alaskans. There are ten internal medicine physicians /hospitalists who provide 24hr/7 days inpatient coverage. A variety of subspecialty services are included within the Department of Internal Medicine, including Pulmonary and Critical Care, Cardiology, Nephrology, Dermatology, Rheumatology, Neurology, and Hematology and Oncology. Gastroenterology is split between the general internists (EGD's) and the general surgeons (colonoscopies and ERCP's). There are also two Hepatologists on staff.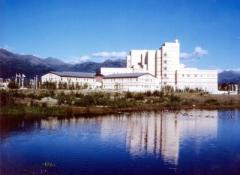 We have had prior experience with internal medicine residents rotating through our facility from Yale University and the University of Washington. On occasion we had international medical students from England, Germany and Australia.
Our service provides ample opportunity for residents to enrich their knowledge and gain experience in ICU skills, endoscopy procedures and other procedures. Residents are autonomous in assessing patients and devising diagnostic and treatment plans but are supervised by attending physicians with whom they discuss daily patient care. They admit daily and on average carry a load of 5 to 10 patients per day. Depending on individual interests, we can try to accommodate time spent on our service to be geared towards future fellowships (i.e. more ICU time, endoscopy experience, cardiology exposure etc).
The broad range of conditions in our patient population is representative of a general medical population, but with some unique conditions seen in the Alaska Native population such as cases of paralytic shellfish poisoning and botulism related to dietary factors. We encounter a large number of alcohol related problems that are frequently coupled with underlying liver conditions (such as frequently present HCV, HBV and NASH) leading to end stage liver disease in relatively young patients.
Various infectious diseases including HIV and tuberculosis, botulism and infective endocarditis are very frequently seen on our inpatient service. MRSA is endemic among villages in rural Alaska and this is at least in part related to the life style (frequent bathing in steam baths shared by all the village). Hence, we have encountered many cases of frequently fatal MRSA necrotizing pneumonia and sepsis in otherwise healthy young people.
Two other areas where we see an increase in morbidity and mortality of Alaska Natives are oncology and cardiovascular diseases. There have been many changes in culture of Alaska Natives as they opened themselves to western life style. The introduction of "western" foods and disappearance of hunting and fishing as ways of gathering food has led to health problems including obesity and an increase in cardiovascular diseases, and cancers (especially if GI tract). Suicide rates are unfortunately high due to cultural disruptions and other factors.
Many or our patients present in the later stages of diseases with clinical manifestations not frequently encountered in other settings. We have an abundance of interesting cases which makes for an exciting medical experience.
In addition, our patient population is unique from a cultural perspective. Our patients often do not speak English and frequently come from remote villages where access to medical care is not always readily available. Working at our facility enhances an awareness for another culture. It teaches us how to respect and embrace what is different and how to develop tools for bridging cultural divides.
Our facility is able to provide first rate medical care to otherwise disadvantaged people residing in rural conditions not unlike those seen in the "Third World". We are fortunate to have state of the art radiology system and we are in the process of transitioning completely to an electronic medical record. We are a level 2 trauma facility with full surgical/neurosurgical staffing.
Our staff is committed to teaching and enjoys sharing knowledge with other colleagues. Some of our staff are former chief medical residents and many are relatively young, recently trained and eager to teach. We include residents whenever there is an interesting case or a procedure that a resident in training might benefit from. Teaching is usually provided by the attending physician and is linked to patient care. On Thursdays, we have Grand Rounds with various speakers from the community as well as outside Alaska.
Expectations from residents working with us include the following:
Daily rounds on patients and discussion with the attending physician regarding the plan of care for patients. We expect the resident to take "ownership" of patient care and to do so in a culturally sensitive way. Continuity of care is high on our priority list and residents will follow their own patient from admission to discharge, even if attending physicians must change due to scheduling.
Participation on daily ICU rounds with ICU team (if resident wishes to gain more ICU experience). Performing all needed procedures with supervision as needed.
No weekend or night schedule, is expected, however many interesting cases arrive from remote villages in the evening hours. Therefore, if residents are interested we can accommodate working flexible/late hours. Otherwise, they will be expected to work from 8am-6pm Monday-Friday. We will adhere to resident work hour restrictions.
Every evening before leaving the hospital, the resident is expected to check out with the on-call physician to sign off on his/hers patients.
Journal club (discussing an article from a leading medical journal) or a case presentation for 30-45 min at the end of his//her rotation.
In addition to Alaska licensure, residents will need to complete ANMC credentialing, including a federally-required urine drug test.
We encourage feedback in the middle and at the end of the rotation, in order to ensure satisfaction with the rotation.
Our goal is to make this rotation the best possible experience for residents with emphasis on exposure to clinically challenging cases in a culturally unique environment.
Availability:
Year round
Community:
Urban (260,000)
Additonal info:
During her rotation at ANMC in February 2018, Michaela Blain put together a PowerPoint with information about ANMC and the Alaska Native community it serves. Strongly recommended for those rotating there.