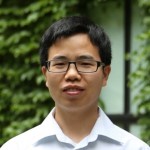 We are delighted to announce that Dr. Dan Fu will be joining the Department as Assistant Professor of Chemistry for the 2015-16 academic year. Dr. Fu completed his undergraduate studies in chemistry at Peking University. He earned his Ph.D. in chemistry with Professor Warren Warren at Princeton University, where he developed novel nonlinear absorption microscopy for visualizing non-fluorescent biomolecules and applied it to early melanoma diagnosis. Dr. Fu briefly conducted postdoctoral work on quantitative phase microscopy with the late Professor Michael Feld at the Massachusetts Institute of Technology before moving to his current postdoctoral position at Harvard University with Professor X. Sunney Xie. While at Harvard, Dr. Fu has focused on the development of multiplex and hyperspectral stimulated Raman scattering microscopy, which he has applied to the study of biological problems such as lipid metabolism, drug transport, and cell growth.
Dr. Fu will launch his research program at the University of Washington in the summer of 2015. He will focus on the development of novel quantitative optical spectroscopy and imaging techniques to study the spatial-temporal dynamics of biomolecules in living biological cells and organisms, with an overarching goal of using analytical and physical chemistry approaches to explore the cellular mechanisms of complex diseases, develop early disease diagnosis tools, and establish effective drug screening processes.
For more information about Dr. Fu and his research, please visit his faculty page or contact him directly via email.