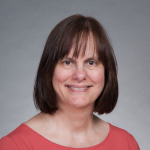 The Department of Chemistry congratulates Senior Lecturer Deborah Wiegand on her promotion to Principal Lecturer, effective September 16, 2016.
Dr. Wiegand joined the Department of Chemistry as Lecturer in 1990, and was promoted to Senior Lecturer in 1995. From 2001-2013, she served as Director of Academic Counseling and the UW Gateway Center and then as Assistant Dean for Undergraduate Academic Affairs, making wide-ranging contributions to student welfare and improving undergraduate services and education.
Dr. Wiegand returned to Chemistry full-time in 2013 as Senior Lecturer and Director of Entry-Level Programs. She regularly teaches courses in our introductory-level general chemistry sequence and serves as the sole instructor for our General, Organic, and Biochemistry sequence, which targets students preparing for the study of nursing. As Director of Entry-Level Programs, Dr. Wiegand leverages her previous administrative experience to provide critical leadership for our large introductory-level instructional programs. Her administrative contributions include leading a significant revision of our introductory-level general chemistry curriculum and the development of a placement test for introductory chemistry courses; when fully implemented, these will help us to better educate and serve the thousands of students who take our introductory-level courses each year.