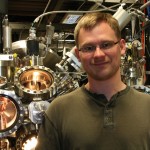 Chemistry alumnus Dr. Jason A. Farmer's dissertation, "Direct Measurements of Chemical Bonding at Solid Surfaces using a Unique Calorimetric Method: Towards Understanding Surface Chemistry in Energy Technologies," was selected by the University of Washington Graduate School as the University's nomination for the 2010 CGS/UMI Distinguished Dissertation Award in Mathematics, Physical Sciences, and Engineering. Dr. Farmer's dissertation now enters the nation-wide competition administered by the Council of Graduate Schools. The award is based on "original work making an unusually significant contribution to the discipline." Dr. Farmer, who conducted his graduate work with Professor Charles Campbell, is also the first author on a paper that recently appeared in Science. Congratulations Dr. Farmer!
To read the abstract for Dr. Farmer's recent publication ("Ceria Maintains Smaller Metal Catalyst Particles by Strong Metal-Support Bonding"), please see the Science article.
For more information about Professor Campbell and his research, please visit his faculty page or research group website.