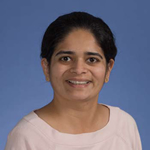 Associate Professor Munira Khalil was recently elected as a Fellow of the American Physical Society. Professor Khalil was nominated by the Division of Laser Science "for probing coherently coupled vibrational and electronic motion during ultrafast charge transfer processes by using a unique combination of infrared, visible, and X-ray experiments to provide new insights into this mechanism."
Newly elected APS Fellows number no more than one-half of one percent of Society membership and election is considered a distinct honor because the evaluation process, conducted by the Fellowship committees of individual divisions, topical groups and forums, is done entirely by one's professional peers. The list of 2017 Fellows, as well as a list of all past and present Fellows, is available on the APS Fellow Archive.
To learn more about Professor Khalil's research, please visit her faculty page and her research group website.