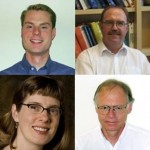 Four faculty members from the Department of Chemistry were among the 701 newly elected Fellows of the American Association for the Advancement of Science (AAAS). Election as a Fellow of the AAAS is an honor bestowed upon members of the organization by their peers. The newly elected AAAS Fellows will be recognized for their contributions to science and technology at the Fellows Forum on February 16, 2013 during the AAAS Annual Meeting in Boston, Massachusetts.
Eleven University of Washington researchers were among the 701 AAAS Fellows elected in 2012, including the following four from the Department of Chemistry:
David S. Ginger, Professor and Raymon E. and Rosellen M. Lawton Distinguished Scholar in Chemistry
D. Michael Heinekey, Professor of Chemistry
Sarah L. Keller, Professor of Chemistry and Associate Dean for Research Activities
František Tureček, Professor of Chemistry
For additional coverage of the UW researchers receiving this honor, please see the UW News article.