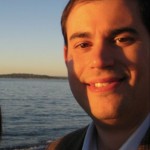 The Computers in Chemistry Division of the American
Chemical Society has awarded Assistant Professor David Masiello the ACS COMP OpenEye Outstanding Junior Faculty Award. His work will be presented at the 2013 Fall ACS meeting in Indianapolis and is titled "Elucidating the
Signatures of Fano Interferences in Electron Energy-Loss and Cathodoluminescence Spectroscopies via Multiscale Electrodynamics Simulations". The award is presented to up to four outstanding tenure-track junior faculty members based on the novelty and importance of their research. The award aims to assist new faculty members in gaining visibility within the computers in chemistry community.
To learn more about Professor Masiello and his research, please visit his faculty page and research group site.