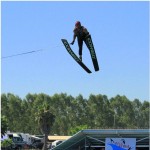 Brian Holm, Program Operations Manager of the Chemistry  Machine Shop, recently placed first in the Men's 5 Jumping event of the 70th annual GOODE Water Ski National Championships. The Championships were held in August 2012 at Okeeheelee Park in West Palm Beach, Florida. Brian jumped a total distance of 142.00 feet, out-jumping the second-place finisher by 11 feet. Over the past decade, Brian has placed in the top ten in the National Tournament an amazing seven times. He is currently ranked #1 on the National Standings List and #1 on the World Standings List for Water Skiing in his age group.
Congratulations Brian!
Scores, daily recaps and photo galleries can be found at www.waterskinationals.com.