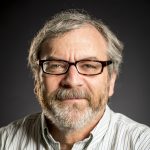 Professor Michael Gelb, Boris and Barbara L. Weinstein Endowed Chair in Chemistry, has been awarded the University Faculty Lecture Award by the University of Washington.
Since 1976, this award has honored current or emeriti faculty whose research, scholarship, or art has been widely recognized by their peers and whose achievements have had a substantial impact on their profession, on the research or performance of others, and perhaps on society as a whole. It acknowledges outstanding creativity and scholarship by University faculty. The award will be presented at the 47th Annual Awards of Excellence ceremony on June 8th in Meany Hall.
Professor Gelb will deliver his lecture sometime in the next academic year, date and time to be determined. To learn more about research in the Gelb Lab, visit the group website.