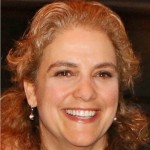 The American Chemical Society has announced Professor Karen Goldberg as the recipient of the 2016 Award in Organometallic Chemistry. This national award recognizes outstanding research in the preparation, reactions, properties, or structure of organometallic substances that is having a major impact on research in organometallic chemistry, with special consideration for demonstrated creativity and independence of thought. Established in 1983, the ACS Award in Organometallic Chemistry continues to be supported by the Dow Chemical Company Foundation. Professor Goldberg will be honored at an Awards Ceremony on March 15, 2016 as a part of the 251st ACS National Meeting in San Diego.
Professor Goldberg was nominated for her groundbreaking work in developing mechanistic understanding of fundamental reactions in organometallic chemistry and for her application of this understanding in organometallic catalysis. Her pioneering studies of reductive elimination reaction mechanisms have become textbook examples of fundamental research guiding catalyst design. Professor Goldberg is a world leader in the activation and functionalization of C-H bonds in hydrocarbons, where her work may lead to better utilization of fossil resources such as natural gas.
Professor Goldberg is the Nicole A. Boand Endowed Professor of Chemistry and Director of the Center for Enabling New Technologies through Catalysis (CENTC). CENTC, a National Science Foundation Phase II Center for Chemical Innovation, brings together researchers from across North America to collaboratively address the economic, environmental and national security needs for more efficient, inexpensive and environmentally friendly methods of producing chemicals and fuels from a variety of feedstocks. While the University of Washington serves as the lead institution, CENTC has 19 senior investigators at 15 locations across the U.S. and Canada, along with several industrial affiliates.
For more information about this and other ACS national awards, please see the announcement of the 2016 national award recipients and the ACS Award in Organometallic Chemistry.
For more information about Professor Goldberg and her research, please visit her faculty page, her research group website, and the Center for Enabling New Technologies through Catalysis (CENTC).