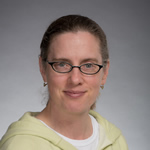 The Biophysical Society has announced Professor Sarah Keller as the recipient of the 2017 Avanti Award in Lipids. Avanti Polar Lipids, Inc. established this annual award to be given by the Biophysical Society in recognition of an investigator's outstanding contributions to understanding of lipid biophysics. Professor Keller will be honored at the Awards Symposium on February 14, 2017, during the Society's 61st Annual Meeting in New Orleans.
In their announcement, the Biophysical Society stated that Professor Keller "is being recognized for her seminal work that has contributed to the understanding of phase behavior of multicomponent lipid membranes." She is among the youngest recipients for this honor, in terms of years since Ph.D. at the time of award. Her numerous professional accolades include two previous BPS awards: the 2014 Thomas Thompson Award, which recognizes an outstanding contribution in the field of membrane structure and assembly, and the 2005 Margaret Oakley Dayhoff Award, which is given to a woman who holds very high promise or has achieved prominence while developing the early (pre-tenure) stages of a career in biophysical research.
Professor Keller is a biophysicist who investigates self-assembling soft condensed matter systems, primarily centered around how simple lipid mixtures within bilayer membranes give rise to complex phase behavior. In addition to her primary work in Chemistry, she is also Adjunct Professor of Physics, and previously served as Associate Dean for Research Activities in the College of Arts and Sciences.
For more information about Professor Keller and her research, please visit her faculty page and her research group website.