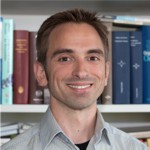 Assistant Professor Stefan Stoll has received a 2015 Cottrell Scholar Award from the Research Corporation for Science Advancement (RCSA). The Cottrell Scholar Award provides $75,000 in funding to support innovative teaching and research. The RSCA granted fifteen awards this year to early career scientists in the fields of chemistry, physics, and astronomy at institutions across the United States, recognizing the recipients as outstanding teacher-scholars with innovative research programs and academic leadership skills.
Stoll uses an experimental biophysical approach to pursue a deeper understanding of the molecular structure and dynamics of proteins and protein complexes that underlie the mechanisms of all chemical processes in life. He is developing highly sensitive and accurate methods to measure the flexibility of protein shapes using double electron-electron resonance (DEER) spectroscopy, a pulsed electron paramagnetic resonance (EPR) technique that measures nanometer-scale distances between spin labels attached to proteins, allowing the determination of conformational distributions and flexibility in a manner unattainable by other methods. With DEER, it is possible to distinguish rigid proteins from flexible ones, and to quantify and visualize the flexibility, though Stoll is also working to significantly increase the sensitivity of the DEER technique to improve its use as a measurement tool.
As an educator, Stoll is interested in enhancing student engagement and increasing learning outcomes through the use of digital media. He is working to design and produce an extensive series of brief lecture videos and a set of tutorial videos, which will be integrated into his physical chemistry courses, as well as an online open-access textbook for undergraduates in physical chemistry.
Please visit the Research Corporation website for more information about the Cottrell Scholars program and the 2015 award recipients.
For more information about Professor Stoll and his research, please visit his faculty page and research group website.