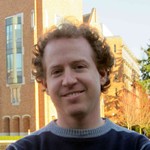 We are delighted to announce that Dr. Joshua Vaughan will be joining the Department as our newest Assistant Professor of Chemistry. Dr. Vaughan studied chemistry as an undergraduate at Reed College. He earned his Ph.D. in physical chemistry with Professor Keith Nelson at the Massachusetts Institute of Technology, where he developed novel adaptive optical tools and applied them in multidimensional optical spectroscopy, coherent control, and quantitative optical microscopy. He then conducted postdoctoral research with Professor Xiaowei Zhuang at Harvard University in biophysics, with a focus on the development of novel photoswitching chemistries for ultrahigh-resolution fluorescence imaging in fixed and living cells. He received an NIH postdoctoral fellowship and a Burroughs Wellcome Career Award at the Scientific Interface for his postdoctoral research.
Dr. Vaughan will commence his program at the University of Washington in July, and he is happy to be returning to the Pacific Northwest. His research program spans multiple scientific disciplines and will combine the development of new fluorescent probes for bio-nanoimaging and the application of these tools to probe the molecular-level organization of various cellular and organelle systems.
For more information, please contact him directly via email at vaughan@chem.washington.edu.