Department of Chemistry News
July 1, 2013
Gojko Lalic wins NSF CAREER Award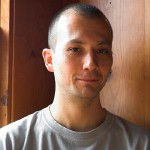 Assistant Professor Gojko Lalic has received a CAREER (Faculty Early Career Development) Award from the National Science Foundation. The CAREER Program is a Foundation-wide program that "offers the National Science Foundation's most prestigious awards in support of junior faculty who exemplify the role of teacher-scholars through outstanding research, excellent education and the integration of education and research within the context of the mission of their organizations." Prof. Lalic received the award for his research proposal, "CAREER: Catalytic Methods for Hydrofunctionalization of Unsaturated Compounds". The award funds research that will investigate new general strategies for the hydrofunctionalization of unsaturated compounds using transition metal catalysis. In particular, Prof. Lalic will be:
Investigating the highly selective copper-catalyzed reduction of alkynes to alkenes – a method that avoids common side reactions such as over-reduction and alkene isomerization.
Studying the copper-catalyzed anti-Markovnikov hydrobromination reactions of terminal alkynes for the preparation of alkenyl bromides. These provide valuable alternatives to stoichiometric methods currently used for the synthesis of this class of compounds.
Investigating the synthesis of Z- and E-alkenes via the hydroalkylation of alkynes.
Studying a new general approach to the asymmetric synthesis of quaternary stereocenters based on gold-catalyzed hydrofunctionalization of chiral allenes. Using this approach, new methods for the synthesis of enantioenriched      tetrahydrofurans, tetrahydropyrans, chromans, pyrroles, piperidines, and a variety of carbocyles containing quaternary stereocenters are under investigation.
In addition to providing valuable tools for organic synthesis, Prof. Lalic is active in promoting STEM education at two local high schools by contributing to guest lectures and participating in school science fairs and Seattle-area science exhibits.
For more information about this NSF CAREER Award, please visit the award website.
For more information about Gojko Lalic and his research program, please visit his faculty page and his research group page.