Department of Chemistry News
September 13, 2013
Karen Goldberg appointed as a UW Presidential Entrepreneurial Faculty Fellow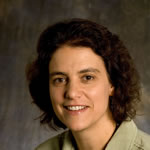 Karen Goldberg, Nicole A. Boand Endowed Professor of Chemistry and Director of the Center for Enabling New Technologies through Catalysis, is one of eight UW professors appointed as Presidential Entrepreneurial Faculty Fellows. Entrepreneurial Faculty Fellows are selected for their success in initiating groundbreaking programs to translate research into products and therapies, in collaborating with industry, and in sharing their knowledge with other UW researchers.
Throughout their two-year terms the eight new fellows will serve as mentors to other UW faculty, researchers and staff with entrepreneurial aspirations, and also share their experiences at campus entrepreneurial events. At the end of the term, fellows are encouraged to continue participation in the program and to serve as program and activity advisors to the UW Center for Commercialization (C4C).
More information about the Entrepreneurial Faculty Fellows Program can be found at the C4C website.
To learn more about Professor Goldberg, visit her faculty page and her research group site.