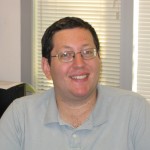 We are delighted to announce that Dr. Lawrence Goldman will join the Department of Chemistry as Lecturer, with a focus on introductory organic chemistry lecture and laboratory courses.
Dr. Goldman received his undergraduate degree in chemistry and mathematics from Rutgers University, where he conducted research on organic synthesis with Prof. Spencer Knapp. He then received his Ph.D. in physical organic chemistry with Prof. Barry Carpenter at Cardiff University. Dr. Goldman has experience teaching organic chemistry lecture and laboratory courses at several institutions, and he will be moving to the UW from his current position as Visiting Assistant Professor at Whitman College.
We look forward to having Dr. Goldman join us in September as the fifth member of our lecturing faculty, and our first to specialize in organic chemistry instruction.