Department of Chemistry News
April 1, 2015
Ashleigh Theberge to join faculty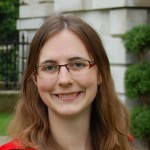 We are delighted to announce that Dr. Ashleigh Theberge will be joining the Department as Assistant Professor of Chemistry. Dr. Theberge completed her undergraduate studies in chemistry at Williams College, performing research with Professors Thomas Smith, Dieter Bingemann, Lois Banta, and Heather Stoll. She received her Ph.D. in chemistry with Professor Wilhelm Huck at the University of Cambridge in the field of droplet-based microfluidics. While pursuing her Ph.D., she was a visiting researcher at the Université de Strasbourg with Professor Andrew Griffiths, where she developed microfluidic methods for drug synthesis and screening. She completed her NIH postdoctoral fellowship with Professors David Beebe, William Ricke, and Wade Bushman at the University of Wisconsin-Madison, studying molecular mechanisms of prostate cancer using microscale culture and analysis platforms. She is presently an NIH K Award Scholar at the University of Wisconsin-Madison.
Dr. Theberge will launch her research program at the University of Washington in January 2016. Her research centers on the development and use of microfluidic technologies to understand the chemical signaling processes underlying disease, with a particular interest in steroid hormones in prostate disease and testis development and oxylipins involved in the immune response. She will develop new methods for microscale cell culture, small molecule isolation, and metabolomics.
For more information about Dr. Theberge and her research, please visit her faculty page or contact her directly via email.