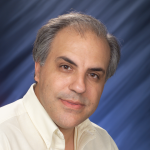 We are delighted to announce that Sotiris S. Xantheas has joined the Department as Affiliate Professor of Chemistry. He also holds the title of UW-PNNL Distinguished Faculty Fellow.
Dr. Xantheas is a Laboratory Fellow in Chemical Physics & Analysis, part of the Physical Sciences Division at Pacific Northwest National Laboratory. Dr. Xantheas is widely recognized for his expertise related to the molecular science of aqueous systems. His innovative studies of intermolecular interactions in aqueous ionic clusters and use of ab initio electronic structure calculations to elucidate their structural and spectral features are at the forefront of molecular theory and computation.
As Affiliate Professor of Chemistry with graduate faculty status, Dr. Xantheas is able to serve as a graduate advisor. Dr. Xantheas' research facilities are located on the Pacific Northwest National Laboratory campus in Richland, WA.
For more information, please visit his faculty page, his PNNL staff page, or contact him directly via email at xantheas@uw.edu.