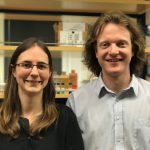 Assistant Professor Ashleigh Theberge and Affiliate Assistant Professor Erwin Berthier were selected to receive a Kavli Microbiome Ideas Challenge grant, which supports novel, cross-cutting tools and methods in the field of microbiome research. "The Kavli Microbiome Ideas Challenge is an exciting opportunity to support high risk, interdisciplinary research that does not normally receive traditional funding," said Tim Donohue, Chair of the Scientific Advisory board for the Kavli Challenge. "The grants selected for funding demonstrated great potential for the generation of novel tools and methods that will be broadly applicable across the many environments and move the field forward in the causal understanding of microbial and community function. The Kavli Foundation is to be commended for investing in this rapidly emerging field with this program."
The Theberge group, along with collaborator Nancy Keller at the University of Wisconsin–Madison, will use their Kavli grant to develop a tool for deciphering multi-kingdom communication molecules using engineer cellular traps. The team will create new analytical chemistry and engineering tools that pull out key molecules from a mix of molecular noise in order to selectively "listen" to molecular signals produced by specific fungi, bacteria, or human cells.
To learn more about Professor Theberge and her research, please visit her faculty page and research group website.