Department of Chemistry News
April 2, 2019
Sarah Keller receives 2019 Cottrell Scholars STAR Award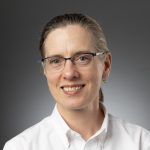 Congratulations to Professor Sarah Keller, recipient of a 2019 Cottrell Scholars STAR (Science Teaching and Research) Award from the Research Corporation for Science Advancement. The STAR Award "recognizes the outstanding research and educational accomplishments of Cottrell Scholars."
The RCSA stated in their press release: "STAR Award winner Sarah Keller and her associates work to discover physical mechanisms that cause spatial organization in cell membranes, which affects the function of membrane proteins and cells. Her research is question-based rather than technique-based, and calls for continually introducing new methods to the lab. Simultaneously being experts in membrane biophysics and novices in each new technique creates opportunities—she says her team's most important discoveries arise from creativity unconstrained by assumptions about how risky and challenging their experiments may be. 'This type of science attracts new talent: researchers who embrace uncertainty and may not fit in traditional physics labs,' Keller maintains. She also leads educational initiatives in teaching, chemical education research, and mentoring both students and faculty, including work with international mentoring networks. 'My central motivation is to cultivate talent from all backgrounds, because excellent science requires excellent scientists.'"
As the Cottrell STAR Award is designed to recognize the outstanding research and educational accomplishments of members of the community of Cottrell Scholars, STAR recipients must have previously been selected as Cottrell Scholars by the RCSA, an honor which Professor Keller received in 2003. The STAR award also serves to encourage the improvement of science education at American universities and colleges and raise the national profile of the Cottrell Scholars. The STAR Awards, which include a $5,000 cash prize, will be presented at the July 2019 Cottrell Scholar Conference in Tucson, Arizona, where recipients will give brief acceptance talks. During 12 months following the award presentation, STAR and IMPACT winners will also be available for mentoring young Cottrell Scholars.
For more information about the Cottrell Scholars STAR Award, read the press release.
For more information about Professor Keller and her research, please visit her faculty page or research group website.