Department of Chemistry News
December 18, 2009
Michael Gelb elected as AAAS Fellow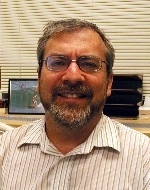 Professor Michael Gelb has been elected as a Fellow of the American Association for the Advancement of Science (AAAS). AAAS recognizes Fellows for their contributions to science and technology. Gelb is one of six newly-elected Fellows from the University of Washington.
Read the AAAS press release and full list of elected Fellows.
Read more about Gelb and the five other newly-elected AAAS Fellows from UW in the University Week.
For more information about Michael Gelb and his research, please visit his faculty page and research group website.