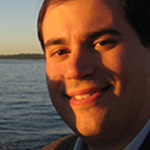 We are delighted to welcome Dr. David Masiello to the Department of Chemistry. Dr. Masiello specializes in the many-body theory of atomic and molecular systems and their interaction with the electromagnetic field.
Dr. Masiello received both his undergraduate and graduate degrees from the University of Florida, earning his Ph.D. in Chemical Physics in 2004 with Professor Yngve Ohrn. After two years as a postdoctoral research associate with Professor William Reinhardt here at the University of Washington, Dr. Masiello moved to Northwestern University to study the first-principles theory of molecular spectroscopy and optics on the nanoscale with Professor George Schatz. Dr. Masiello is currently serving as a lecturer at the University of Washington, and will be teaching physical chemistry this spring quarter.
Dr. Masiello will begin his research program here in June, with a focus on the fundamental theory of a variety of plasmon-enhanced molecular processes from linear and nonlinear spectroscopy and molecular sensing, to charge transfer in condensed-phase environments with application to enhanced solar energy conversion. For more information, please visit his  faculty page or his research group website, or contact him directly via email at masiello@chem.washington.edu.