Department of Chemistry News
October 28, 2010
Pradipsinh Rathod awarded Gates Foundation grant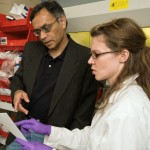 Pradipsinh K. Rathod, Professor of Chemistry, was awarded a $ 1,000,000 grant from the Bill & Melinda Gates Foundation as part of the next phase of Grand Challenges Explorations, an initiative to encourage bold and unconventional ideas for global health. The grant will provide continued support for Prof. Rathod's  global health research project "Strategies to Disable Hypermutagenesis in Malaria Parasites."
Prof. Rathod proposed that drug resistance in malaria parasite populations is driven by cellular components, a "mutasome", that promotes acquisition of multiple mutations at target loci in the genome.  All malaria parasites may have had an ancestral, pre-existing mechanism to mutate surface proteins at extraordinary rates to avoid host immunity. However, parasite populations displaying the Accelerated Resistance to Multiple Drugs (ARMD) phenotype may have hijacked such a machinery to now make changes anywhere in the genome. Genomic studies are geared to identify genome components which help drive hypermutagenesis, and high throughput screens are being developed to directly block the process with small organic molecules. An ability to chemically disable such a mutasome during malaria therapy would improve success rates and staying power of new antimalarial drugs.   Laboratory Post-Doctoral colleagues John White and Jenny Guler, and graduate student Joseph Fowble conduct  experimental design and implementation on the GCE project in the Rathod laboratory.
Grand Challenges Explorations is a five-year, $100 million initiative of the Gates Foundation to promote innovation in global health. For more information, visit  http://www.grandchallenges.org/explorations.
To learn more about Prof. Rathod's research, visit his faculty page.
Pictured: Prof. Rathod and Dr. Jennifer Guler in the lab (photo by Mary Levin).