Department of Chemistry News
December 22, 2010
Two New Professorships; Two New Holders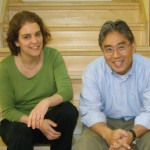 We are pleased to announce the establishment of two new professorships within the Department of Chemistry and the appointments of the first holders to these new positions. A generous gift from Professor Larry Dalton, in honor of his spouse, has established the Nicole A. Boand Professorship in Chemistry. Professor Karen Goldberg is the first Nicole A. Boand Professor of Chemistry. A generous gift from Bruce Montgomery, an alumnus of our undergraduate program and biotechnology pioneer, has established the A. Bruce Montgomery Endowed Professorship in Chemistry. Professor Daniel Chiu has been selected as the first Montgomery Professor of Chemistry. We thank the donors for their extraordinary contributions to our program and congratulate the new faculty appointees!
To read more about Professor Karen Goldberg, visit her faculty website. To learn more about Professor Daniel Chiu, visit his faculty page.
Click to read additional Department of Chemistry news stories about Professor Larry Dalton and Dr. Bruce Montgomery.