Department of Chemistry News
February 15, 2011
Dustin Maly awarded Sloan Research Fellowship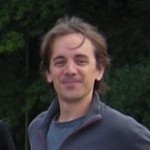 Dustin Maly, Assistant Professor of Chemistry, has been awarded a 2011 Alfred P. Sloan Research Fellowship. The fellowships are given to early-career scientists and scholars in recognition of achievement and the potential to contribute substantially to their fields.
Research in the Maly group focuses on developing new chemical tools that allow a greater quantitative understanding of cellular signaling than is possible with currently available methods.  The group uses the tools of organic synthesis to generate cell permeable small molecules that allow the activation or inactivation of specific signaling enzymes in living cells. 
Read more about Sloan Research Fellowships.
To learn more about Dustin Maly's research, visit his faculty page and research group website.