Department of Chemistry News
December 21, 2011
Four Faculty Members Elected Fellows of AAAS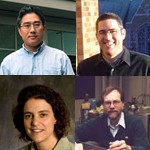 In November 2011, the Council of the American Association for the Advancement of  Sciences (AAAS) elected 539 members as Fellows of the AAAS. These individuals will be recognized for their contributions to science and technology at the Fellows Forum to be held on 18 February 2012 during the AAAS Annual Meeting in Vancouver, British Columbia. Four faculty members from the UW Department of Chemistry were elected:
Daniel Chiu, A. Bruce Montgomery Professor of Chemistry and Endowed Professor in Analytical Chemistry
Daniel Gamelin, Harry and Catherine Jaynne Boand Endowed Professor of Chemistry
Karen Goldberg, Nicole A. Boand Endowed Professor in Chemistry
Bruce Robinson, Professor of Chemistry
See the full list of 2011 AAAS Fellows.