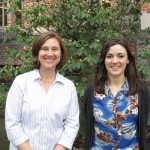 We are delighted to welcome Dr. Jasmine Bryant and Dr. Colleen Craig to the Department of Chemistry as new lecturers. Enrollment in the chemistry courses is at an all-time high. As a result, the Department of Chemistry conducted a national search for additional instructional staff to ensure students have access to chemistry courses.
Dr. Bryant received her undergraduate degree in chemistry from the California Institute of Technology, her Master's in Teaching from Seattle University, and her PhD in inorganic chemistry at the University of Washington, working with Prof. James Mayer. She has been at the UW in several roles since 2002, most recently as the Director of Communications for the Center for Enabling New Technologies through Catalysis and as a temporary instructor in general chemistry and inorganic chemistry.
Dr. Craig received her undergraduate degree at the University of Colorado, Denver Campus, and her PhD in physical chemistry at the University of Washington, working with Prof. Oleg Prezhdo. She has taught general chemistry classes at UW as a temporary instructor for the past two years, as well as at Seattle Central Community College for three years starting in 2008. Since spring 2011, Dr. Craig has worked with UW in the High School to develop a version of CHEM 110 (Introduction to General Chemistry) for delivery in Washington State high schools. In addition to teaching, Dr. Craig has also worked as a content developer for WH Freeman, and has participated in several chemistry advisory boards, including for McGraw Hill and WebAssign.
Drs. Bryant and Craig join Dr. Andrea Carroll (below) as lecturers.