Department of Chemistry News
August 26, 2013
Matt Bush wins ASMS Research Award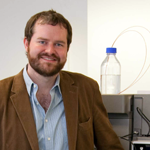 The American Society for Mass Spectrometry (ASMS) has awarded Assistant Professor Matt Bush a research award in the amount of $35,000. The ASMS presents two awards annually. Professor Bush's award is sponsored by the Waters Corporation for the purpose of promoting academic research by young scientists in mass spectrometry. The awards are open to academic scientists within four years of joining the tenure track faculty or equivalent in a North American university.
More information about the ASMS Research Awards can be found on the award website.
To learn more about Prof. Bush and his research, please visit his faculty page and research group page.