Department of Chemistry News
December 5, 2014
AJ Boydston wins NSF CAREER Award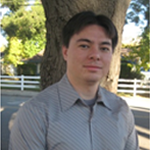 Assistant Professor AJ Boydston has received a CAREER (Faculty Early Career Development) Award from the National Science Foundation. The CAREER Program is a Foundation-wide program that "offers the National Science Foundation's most prestigious awards in support of junior faculty who exemplify the role of teacher-scholars through outstanding research, excellent education and the integration of education and research within the context of the mission of their organizations." Professor Boydston received the award for his research proposal, "CAREER: Development of Force-Activated Materials for the Release of Small Organic Molecules". This award funds research to develop materials capable of releasing small organic molecules via mechanochemical transduction. In this way, macroscopic forces will be translated into molecular-level chemical reactions. In particular, Professor Boydston will be:
Investigating how mechanical force can be used to guide chemical reactivities. This will include comparisons between mechanophores that operate by complementary bond bending and stretching mechanisms.
Developing mechanochemical triggers for initiating head-to-tail depolymerization of self-immolative polymers.
Establishing design principles for materials that most efficiently convert mechanical input into chemical output.
In addition to providing new insights and capabilities for functional materials, Professor Boydston maintains an active commitment to STEM education through interactions with various on-campus organizations and curriculum development with Sammamish High School.
For more information about this NSF CAREER Award, please visit the award website.
For more information about AJ Boydston and his research program, please visit his faculty page.