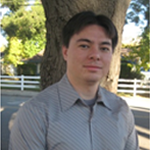 We are delighted to welcome Dr. Andrew Boydston to the Department of Chemistry. Dr. Boydston is an expert in the field of organic synthesis, polymer science, and materials chemistry.

Dr. Boydston received his B.S. and M.S. degrees from the University of Oregon where he did research with Professor Michael M. Haley, and later earned his Ph.D. from the University of Texas at Austin in 2007 under the direction of Professor Christopher W. Bielawski. Dr. Boydston is currently a postdoctoral research associate with Professor Robert H. Grubbs at the California Institute of Technology, where his work currently focuses on nanostructures based on cyclic polymer topologies.
Dr. Boydston will begin his research program here in July, focusing on the design, synthesis, and application of functional organic materials and the development of new reaction methodology. For more information, please visit his  faculty page and his research group website, or contact him directly via email at boydston@chem.washington.edu.