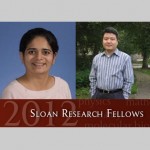 Two members of the UW Department of Chemistry faculty are recipients of Sloan Research Fellowships, awarded by the Alfred P. Sloan Foundation. Assistant Professors Munira Khalil and Bo Zhang each received a fellowship, which are "given to early-career scientists and scholars whose achievements and potential identify them as rising stars, the next generation of scientific leaders."
Professor Khalil studies how coupled electron and vibrational motions and their interactions with the surrounding solvent dictate the course of ultrafast charge transfer reactions in chemical and biological systems. To learn more about Professor Khalil's research, please visit her faculty page and research group website.
Professor Zhang's research focuses mainly on fundamental and applied aspects of electrochemistry and bioanalytical chemistry using nanoelectrodes. His group is interested in developing new electrochemical methods to study electrocatalysis in single molecules and single nanoparticles, and to image neuronal communication at nanoscale resolution. To learn more about Professor Zhang's research, please visit his faculty page and research group website.
The Sloan Research Fellowships have been awarded since 1955, initially in only three areas: physics, chemistry and mathematics. Since then, 38 Sloan Research Fellows have gone on to win the Nobel Prize in their fields, and 16 have received the Fields Medal, the top honor in mathematics. The program now also recognizes researchers in economics, computer science, economics, evolutionary and computational molecular biology and neuroscience; this year it expanded to include ocean sciences.
The fellowships include a grant of $50,000 over a two-year period. Once chosen, Sloan Research Fellows are free to pursue whatever lines of inquiry are of most interest to them, and they are permitted to employ Fellowship funds in a wide variety of ways to further their research aims.
"Today's Sloan Research Fellows are tomorrow's Nobel Prize winners," said foundation president Paul Joskow. "These outstanding men and women are responsible for some of the most exciting science being done today. The Foundation is proud to support them during this pivotal stage of their careers."